Bear All-in-One Airline Pet Crate Package
SKU:

katbear1

UPC:

Weight:

30.00 LBS

Shipping:

Calculated at Checkout
No fuss! You get an airline approved crate, enough metal nuts and bolts for this crate, the proper amount of live animal labels, Dry Fur pads, enough cable ties, food and water bowls that fit the door, pet ID tags, Everything! We put it all together make it easier on you and your pet! OUR (ALL in ONE) Complete Pet Airline Kit – Guaranteed to be accepted by ALL Airlines. All the features are listed below.

This package cannot be shipped to APO, FPO, DPO, and PO addresses.

Bear Kennel-Crate Measurements:
40 "L x 25″W x 29″H (OUTSIDE DIMENSIONS) 36"L x 23"W x 28"H (INSIDE DIMENSIONS)
Suggested to fit Pets up to 34″ LONG x 26″ TALL

MAKE SURE TO MEASURE YOUR PET! See Our Sizing Chart and Review our Pet Travel Carrier Crate Guidelines
Kit includes EVERYTHING required by airlines for pet airline travel or transport in cargo / luggage area of plane. Whether your pet cat or dog is traveling with you as checked excess baggage or without you as Cargo, This kit includes everything needed. We take the guess work out of it!


100% Airline Approved by ALL AIRLINES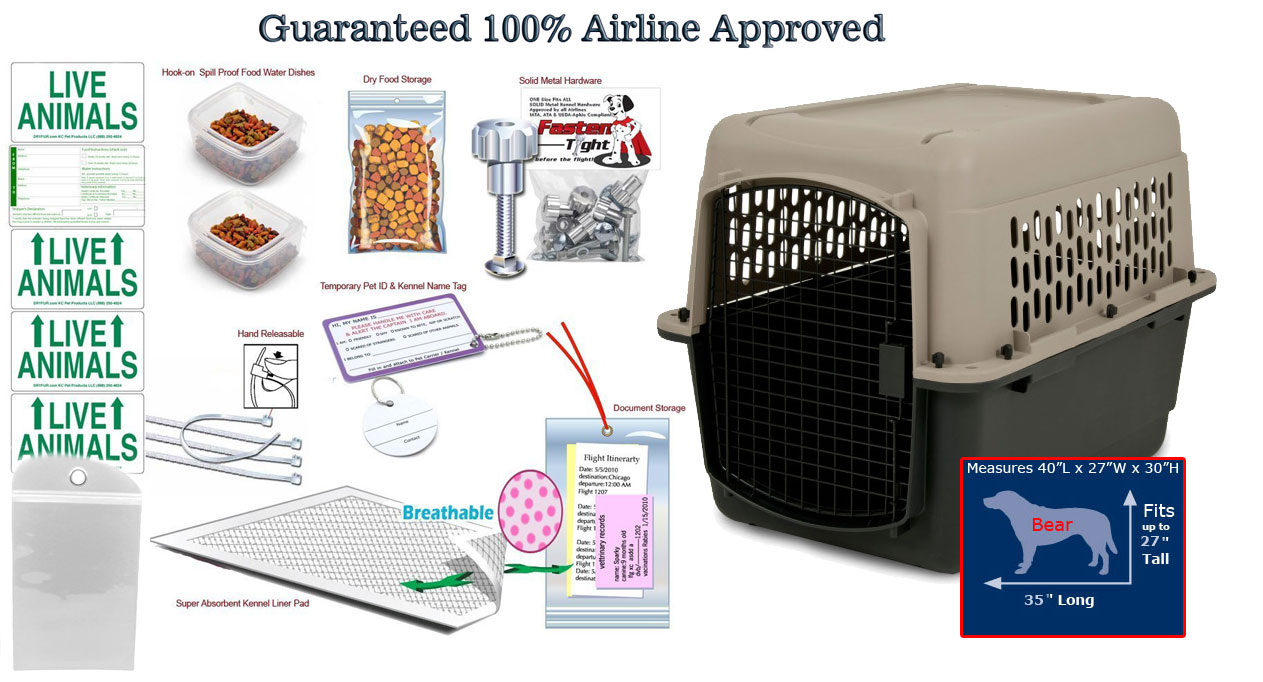 100% Approved for Domestic and International Flights

IATA – USDA – FAA Compliant

100% Airline Ready – NO Modifications REQUIRED
Our Airline Crates have all the latest state of the art safety features like pre-drilled Cable Tie Holes around the doors, Ventilation on all 4 sides, Solid Metal Nuts and Bolts, Covered Door Posts, Tie-down Strap holes on all 4 corners.
Included is the DryFur® "First Class" Deluxe Pet Airline Travel Kit. This kit is Airline Approved for Domestic and International Pet Travel.
All these Crate accessories (dishes, hardware etc.) are guaranteed to fit perfectly. No more deciding if the dishes fit the door, or if you have enough metal nuts and bolts.

FEATURES of the BEAR Airline Package:

1 Airline Approved Kennel-Crate. Measures 40 "L x 25″W x 29″H (OUTSIDE DIMENSIONS)
1 Super Absorbent Pad 24" x 35" with Stay-Put Adhesive strips to keep pads in place.
1 Set Spill Proof CLEAR Kennel Food & Water Cups holds 3 cups each
1 FULL Set of Live Animal Stickers/feeding instructions (5 Labels) (3 with Arrows are made with special Reflective material for better visibility)
1 Set of Solid Metal Kennel Securing Nuts & Bolts, 15 total
1 Set of Plain Cable Ties
1 set of Hand Releasable Cable ties for securing door
1 Temporary Pet ID Tag
1 Plastic Kennel Name Tag
1 PET Airline Check-List & do it yourself instructions
1 CLEAR Document Storage Zip Pouch
1 CLEAR Reinforced Dry Food Storage Zip Bag
1 CLEAR Pet Passport, Leash & Harness Pouch

NEED HELP PICKING THE RIGHT SIZE See our Size Chart
Thanks for providing all one needs for air travel with a pet!

I needed a kennel to fly my boxer to Italy. Feeling quite overwhelmed with the entire process/information for shots, certificates and kennel requirements, I was thrilled to see that Kats n Us provided a complete airline approved kit with the kennel. I couldn't be more pleased. Kats n Us took out all of the guess work and gave me peace of mind.